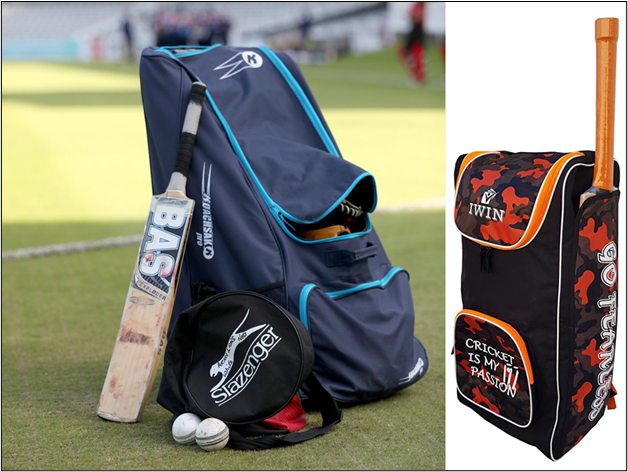 Cricket kit bags play a key role in handling and carrying cricket safety equipment and gear. You need safety gear like helmets, leg guards, footwear, batting gloves, and bats that you wear when you are playing cricket. For the rest of the time, you keep these safety gear in kit bags for easy handling. We provide cricket kit bags with wheels for the smooth rolling of your bags. After you own all the essential cricket safety gear, it has become a necessity to transport your gear with the utmost safety. This ensures no damage to your safety gear and equipment. A cricket kit bag is the best option for carrying safety gear without any damage. We provide a vast variety of kit bags to our customers keeping in mind the requirements and budgets of our customers.
Cricket kit bags are designed to carry single bats. But sometimes, these bags have ample space for keeping two or more bats. Many cricketers prefer to carry a duffle kit bag for easy transportation of cricket safety equipment. In such bags, you can find sufficient space to pack your cricket gear. You can also find kit bags having side pockets to transport cricket bats. At Cricket Online Store Sweden, you will find affordable cricket kit bags with the best quality to carry your cricket equipment. All kit bags available online on our website are manufactured by a renowned brand SS. There are various collections of cricket kit bags on our website.
SS Blast Cricket Kit Bag comes with heavy-duty wheels to provide easy portability to all its customers. This is a full-size kit bag used by professional cricketers to manage cricket essentials all in one place. We assure all our customers that this bag is made of premium quality material to provide maximum safety to cricket gear. This bag contains one main compartment and an external pocket to allow you to keep the bat in it. You can also place your footwear in its external shoe pocket. This cricket kit bag is a better choice for cricketers to keep cricket equipment safe.
Gladiator Wheelie Kit Bag
SS Gladiator Cricket Kit Bag is spacious and sturdy to manage two cricket kits. This bag has ample space to carry two bags. You can keep bats, one at the back side of the bag and the other in the main compartment. One clothing compartment is also there in this bag to carry your clothes when you are going to practice. External pockets are also there on the front side of the bag to carry small medical kits. This bag comes with an extra heavy base having three big sports wheels to facilitate cricketers who want to carry two cricket kits at the same time.
SS MASTER-2000 Kit Bag comprises one main compartment, an external pocket on the top side, and a footwear pocket on its front side. You can also carry water bottles and medical kits inside mesh pockets. This bag contains large pockets on the side to carry leg guards. You can place three bats at the same time in this bag.
Slasher Colt Wheel Kit Bag
This bag is ideal for the professional cricketer as it contains one main compartment and external pockets on both sides and in front.
You can manage to keep four bats at a time with ample space for helmets and footwear.
Conclusion
Cricket Online Store Sweden offers the best cost-effective cricket kit bags that allow cricketers to manage cricket safety gear easily. You can find durable kit bags for easy transportation of your cricket equipment.